Art for Your Feet
Boston Children's Museum
May 6 - July 10, 2014
Exhibit Engages Children to Reimagine How They View Sneakers and Art
Boston Children's Museum recently opened a new exhibit, "Art for your Feet." This exhibit showcases some of the Sneaker Museum's collection of Air Jordan sneakers along with artwork inspired by sneakers. The Art for Your Feet exhibit is all about finding artistic inspiration in sneakers.

The exhibition will showcase an array of sneakers and sneaker brands including Converse, Air Jordan, Adidas, and Puma, and New Balance. There will be a display of baby kicks, cartoon and comic sneakers and chrome textured sneakers as "flying" devices. All of the pieces were selected from the Sneaker Museum Vault - which is one man's private collection of over 2,000 organically collected, never worn kicks spanning from 1980. Each piece was purchased in person, in the store at the time of the release which is rare for sneaker collectors these days.

In addition to the Air Jordan displays, there are 12 local artists in the show who are not making sneakers, but using them as a starting place to create sculptures, paintings, basketball hoops, short videos, and installations. Artists, young and old, can find inspiration in just about anything. The participating artists don't usually create their work about or inspired by sneakers, however they created pieces for this exhibit using sneakers as their starting point.

"The intention of this exhibition is to showcase sneakers as art and to inspire and reimagine the way that children and adults perceive sneakers," said Olivia Ives-Flores, exhibit curator. By expanding the role of sneakers from utilitarian fashion accessory to artistic inspiration to art itself, the hope is that the process will make a full circle and encourage children to dress themselves up in art and grant them permission to reconsider the everyday items that can be art, too!

"One of the goals in both the Art Studio and the Gallery is to expand and introduce new notions of what art is to our visitors," said Alice Vogler, Arts Program Manager. "Art can be made and inspired by what we wear, what we sit on, what we play with, what we eat! There is no limit to what inspires creativity!"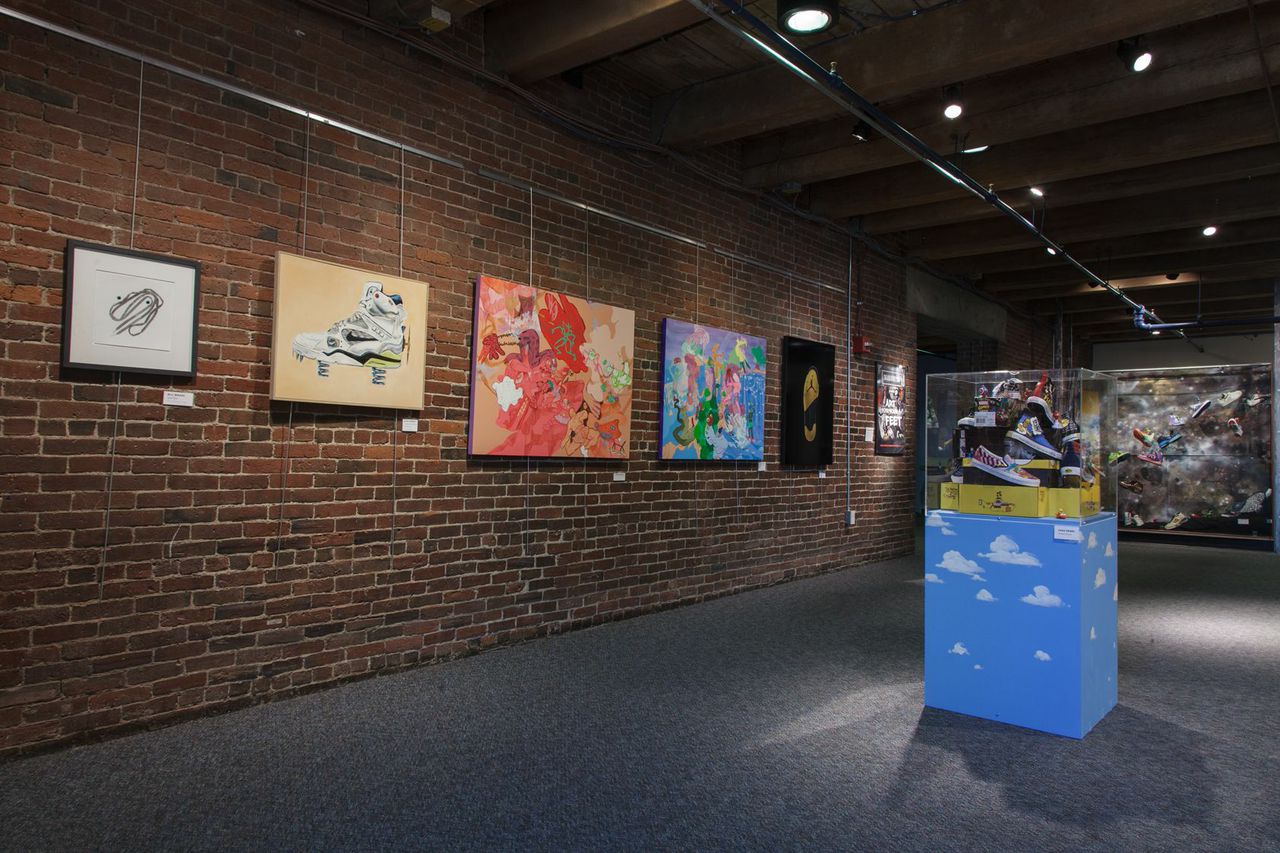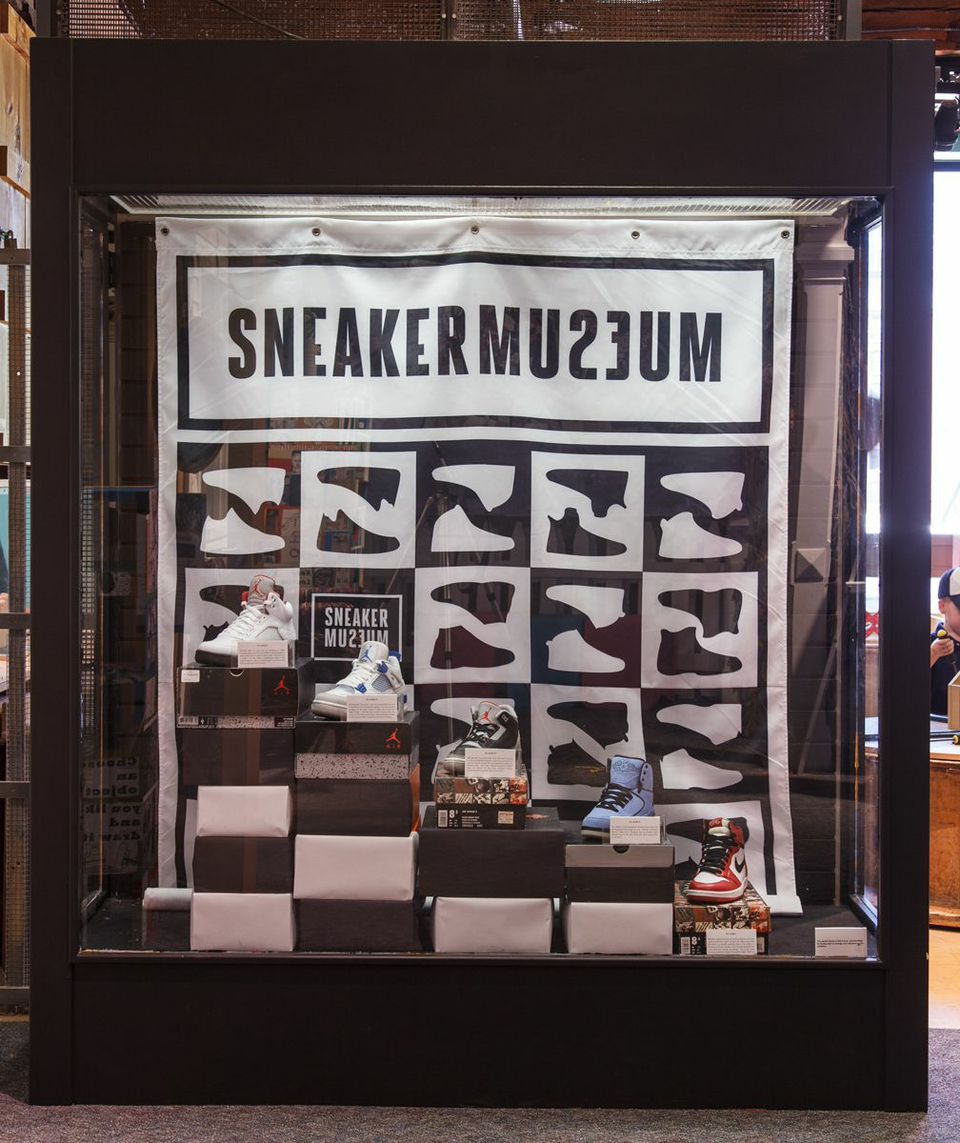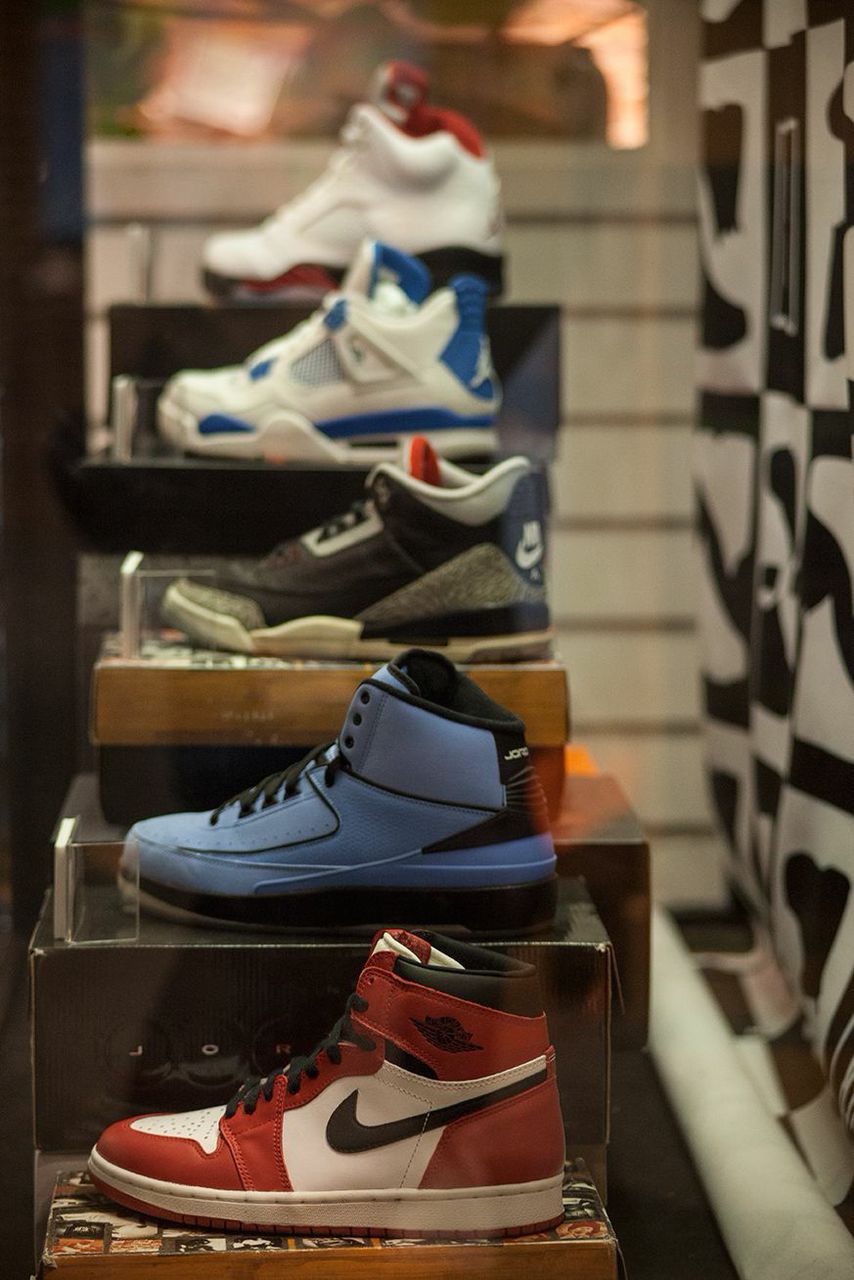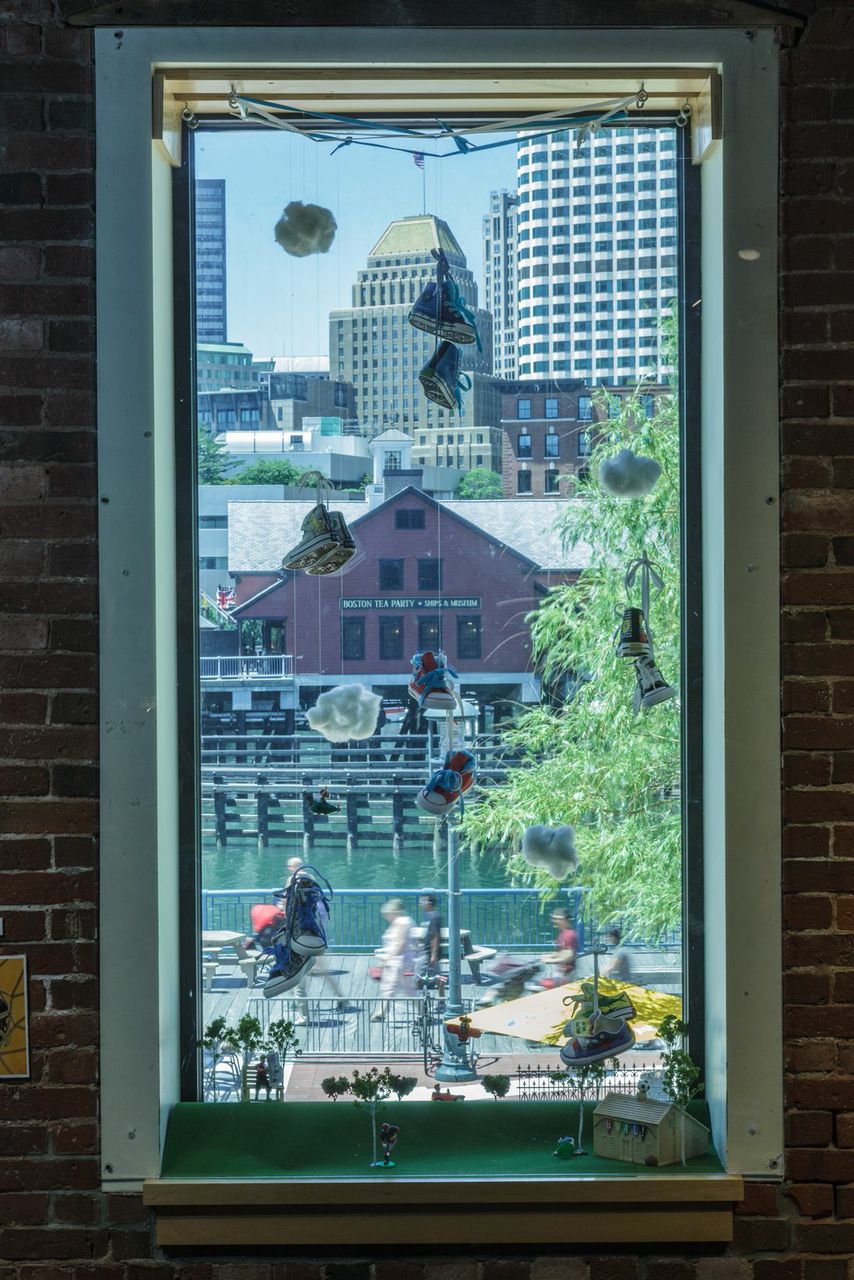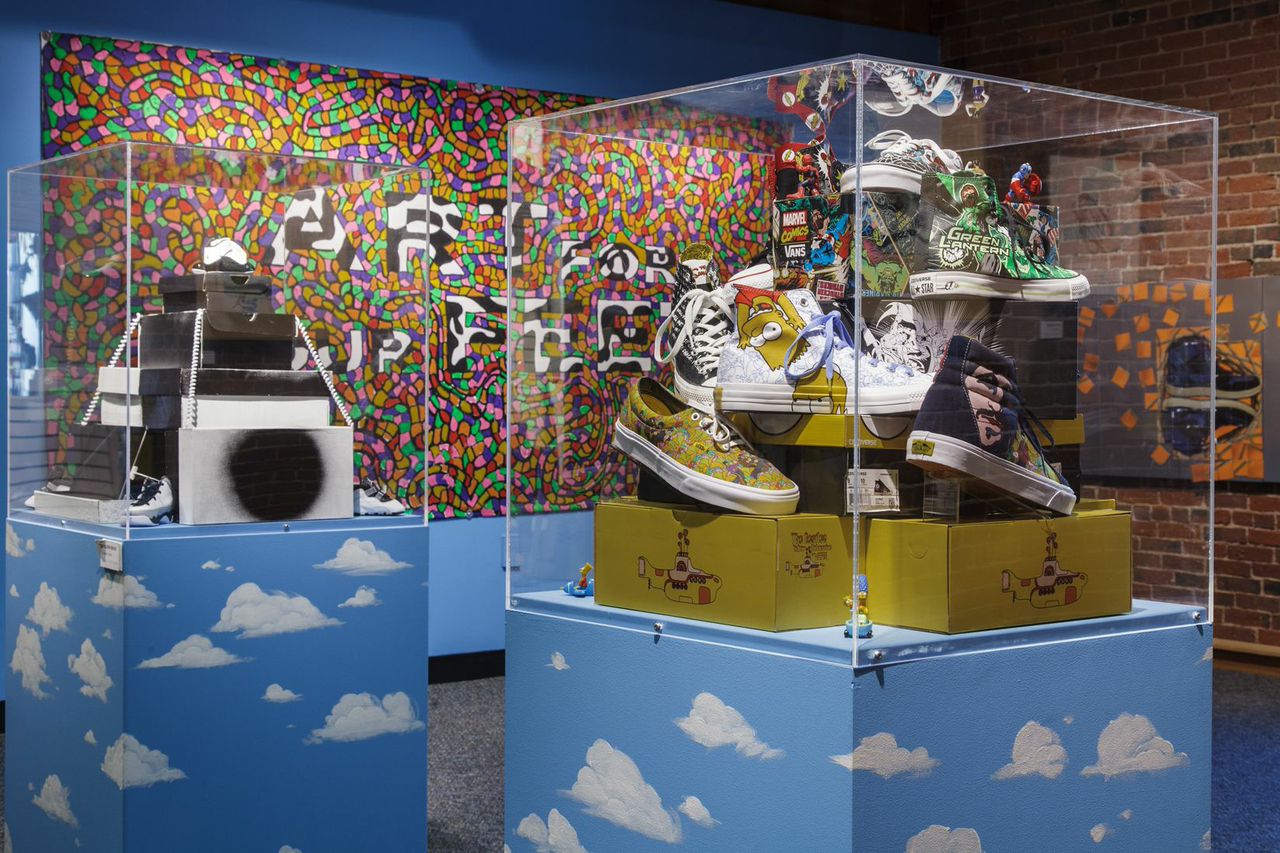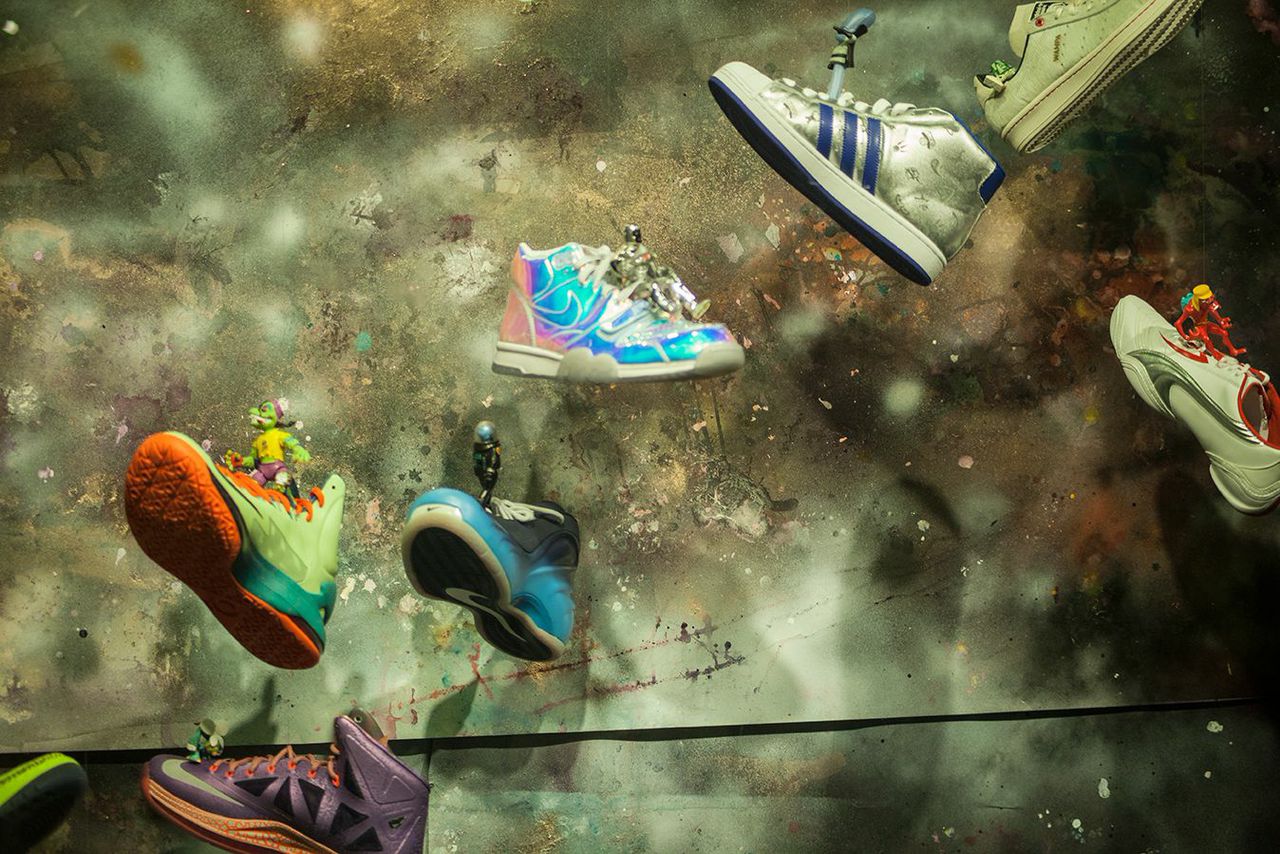 Artists and their creations for the exhibit:
Installation

Ernest English – Continuous Life of Life Series - Interactive + collaborative mural

Dillon Buss – Sneaker Vision – Video art installation

Zach Lanoue - Photo magnet puzzle

Maria Molteni - Hand knit basketball net made out of shoe laces by New Craft Artists in Action

Julianne Merino – Watercolor monotype printed universe to serve as background of sneaker flying machines
Gallery

Mitch Weiss - Jordan Classique photograph

Jordan Piantedosi – Ghost Tour of the Shoe Store - Painting of cartoon characters having a dance party

Golden Sweet – Seair Battle @ Cloud Buster - Painting on hallow door of vampires and other creatures playing basketball in the forest among the trees

Bill Maass – Lace Face – Mixed media portrait made using a shoelace

John Cowley - Ultimate Gooooooaaaaaallllllll!! Sneakers, PVC pipe, newspaper and duct tape

Alex Sewall – Sneakers of the Future, from the 90s – Oil on canvas painting

Jana Renee – Adventures with Jane – Acrylic and oil on canvas painting
Public Programming
Skate Jam : The Art of Skate Boarding with Dillon Buss
A demo for the kids! Skaters: Abe Dubin Brian Leff David Lewis Dillon Buss Justin Callahan Leland Taylor Tate Kokubo Filmed by Vito Ramirez Edited by Dillon Buss

Net-works: Crochet basketball hoops with Maria Molteni
Participants of any skill level are invited to collaborate on craft projects led by Coach Maria. All you need is a ball of yarn, spirit-fingers, and your game face. Together we will learn to knit using only our hands to make pompoms (for those who would like a small dose) and finally a one-of-a-kind basketball Net Work (for those crafters with extra stamina and 3 hours to spare!) The final net will be placed on a hoop that is lacking in Boston.
About Boston Children's Museum
Boston Children's Museum engages children and families in joyful discovery experiences that instill an appreciation of our world, develop foundational skills, and spark a lifelong love of learning.