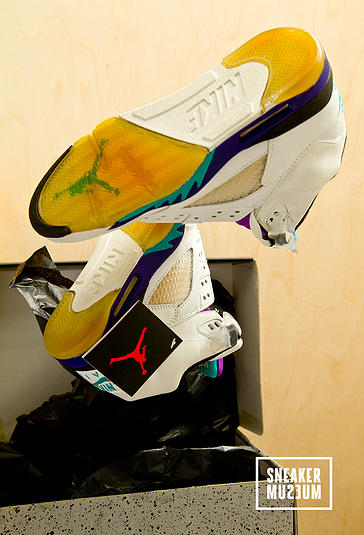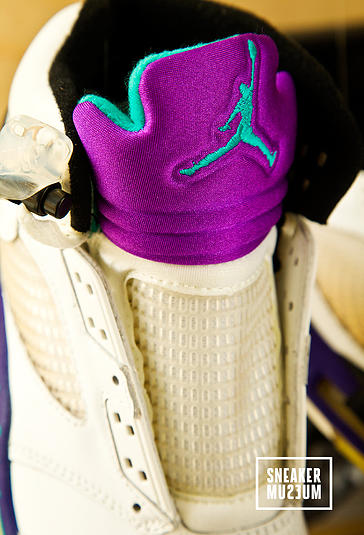 HISTORY
Going to Battle
Today's sneaker aficionados are accustomed to their kicks telling a story. They can point to how a player's signature shoe reflects their playing style, nickname, home area code and more. This wasn't always the case. Nike designer Tinker Hatfield was at the cutting edge of imagining sneakers that inherently spoke to who Jordan was, and the Jordan V was part of this development. As Hatfield tells it, "[Jordan] would be floating around the edges of a game and come out of nowhere to attack….I thought I'd try to make it look a bit like a fighter plane." And so the Jordan V was born, complete with shark teeth shapes in the midsole, inspired by the designs on World War II Mustang fighter jets. Other style and performance details included plastic lace-locks, a clear sole and an iridescent reflective tongue that flashed when caught on camera. With the Jordan V, MJ was definitely ready for battle. (Speaking of battles, sneakerheads today will fight anyone for that rare Jordan V colorway known as grape.)
"My Best Game Ever"
In 1989, assistant coach Phil Jackson was promoted to Head Coach of the Chicago Bulls. Fans now know him as the "Zen Guru" of the NBA (and winner of a record-setting 11 NBA titles), but in 1989 neither he nor his talented young team had won a title. In fact, in his first year as Head Coach the Bulls almost failed to make the playoffs.

Despite Jordan having another all-around great season (33.6 points/game, 6.9 rebounds/game, 6.3 assists/game and 2.77 steals/game), the Bulls were facing the Cleveland Cavaliers on March 28th in a must-win game to clinch a playoff berth. Called on once again to lead his team to the post-season, Jordan answered with a stunning, career-high 69 points in the overtime 117-113 win. He added a monstrous 18 rebounds in what he referred to afterwards as, "My best game ever, by far, especially because we won."
Out and About
One of the street's most prolific artists, Keith Haring, died of AIDS in February. The artist and social activist got started painting New York subway walls and was mourned around the world. The first rap Grammy went to the Fresh Prince and DJ Jazzy Jeff, but hip hop got increasingly weirder as the year went on. Milli Vanilli were caught lip synching and Vanilla Ice released "Ice Ice Baby," which skyrocketed up the charts. The "reality TV" genre took off as COPS started arresting Americans all over. Spike Lee released "Do The Right Thing," an acclaimed film that showed the realities of the day-to-day lives of Brooklynites and was nominated for two Oscars. Two people disguised as Boston Police broke into the Isabella Stewart Gardner Museum and walked off with 13 pieces of art. The incident is still considered the largest art heist in the history of the country.