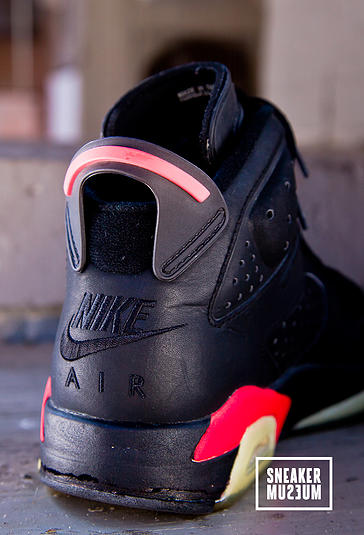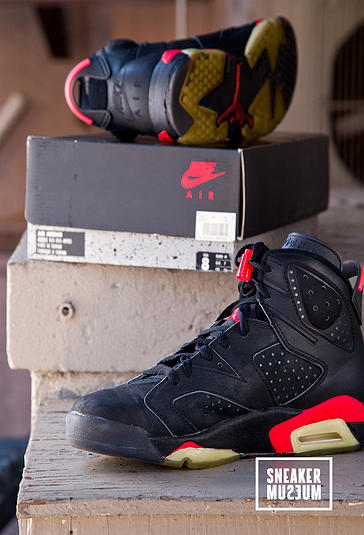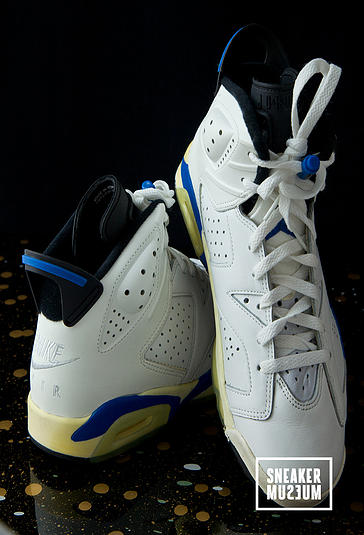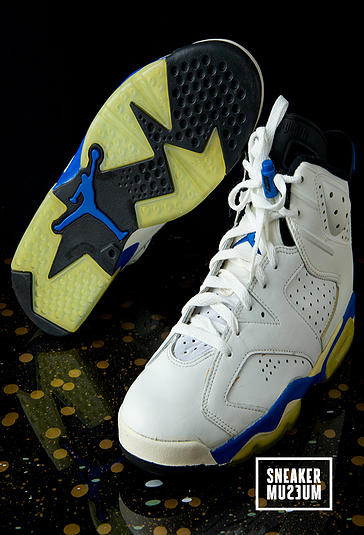 HISTORY
Rides Like a Porsche
The Jordan VIs might be best known as the shoes that knocked a monkey off of Michael Jordan's back. Looking back on his Hall of Fame career and six championships, it's hard to remember how the naysayers used to go after MJ, saying his flashy, high-scoring brand of basketball would never bring the Bulls a ring. Indeed, for an athlete as competitive as Jordan, the six years of falling short had been brutal.

The VIs didn't fall short either. Keeping the popular clear sole and lace locks from the Vs, the VIs added new technology and style. Designer Tinker Hatfield "borrowed" a rear pull tab from the spoiler on Jordan's Porsche, added a convenient easy-pull rubber tongue, and introduced the first inner bootie in a Jordan.The sleek design belied its competitive nature, as Jordan rode it all the way to his first NBA Championship.
"Who's open?!"
This season is known as "Jordan's first championship," a misnomer in many ways. Jordan had another fantastic season, but the championship was more a reflection of improved team play and trust. From Craig Hodges' blistering shooting (19 straight 3-point shots to win the 3-point-competition) to Scottie Pippen's game-changing defense on Magic Johnson in the Championship series, this was winning team basketball.

The Bulls had many weapons, but when the Lakers were facing elimination in the Championship series, they decided their comeback was based on shutting down just one—Jordan. Up 91-90 deep in the 4th quarter, it looked like their strategy was working. Bulls Head Coach Phil Jackson called a time out and famously yelled at his star, "Who's open?!" until Jordan acknowledged that guard John Paxson was. "Find him!" growled Jackson. Paxson scored 10 points over the final 4 minutes, and the Bulls won their first championship 108-101.
Fresh
Following his win at the Grammy's and a disagreement about taxes with the IRS, Will Smith took it to the next level and debuted the popular sitcom "The Fresh Prince of Bel-Air" on NBC. Smith's trademark crazy, patterned costumes weren't even the wildest of the year. In the video for his hip-hop mega hit "U Can't Touch This," MC Hammer almost single handedly maintained the popularity of parachute pants. Hip-hop's women, too, began to dominate the fashion world, and rappers like Salt 'N' Pepa and Missy Elliot sparked a revolution of style.

Run DMC, long the kings of rap, release their fifth album to lukewarm reception. They took a break from recording after fans and began to see them as outdated, and although they continued to release music later, the trio only had a handful of hit singles until they broke up. The industry saw a serious shift when a landmark case between Irish singer/songwriter Gilbert O'Sullivan and rapper Biz Markie made it much more difficult for rappers to freely sample tracks.